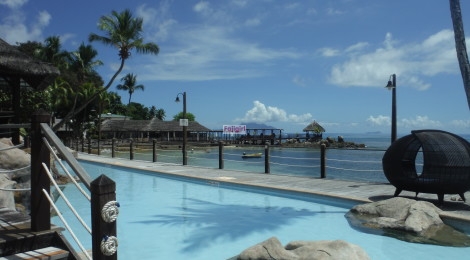 Air Seychelles is an unreliable airline! I was surprised by this since they have a partnership with Etihad Airways (Etihad Airways booking to the Seychelles is likely to be on Air Seychelles). Three weeks before departure, Air Seychelles sent me a ridiculously brief and unapologetic mail to inform me of a change to their flight schedule. I later discovered that flight schedule changes were quite common for the airline, so prospective Air Seychelles customers be warned! The schedule change meant that we would both be arriving  and leaving the Seychelles a day earlier than planned. Unfortunately, this seemingly small change proved very disruptive. At that stage I had booked all the hotels, ferry etc in Tanzania, Seychelles, Dubai and Abu Dhabi for the entire 3 weeks holiday. In addition, the first hotel I booked in Mahe was fully booked for that week (I had begged to even get my original dates), so I couldn't even consider changing the check in and check out dates. Also, given the flight time and the ferry schedule for the new departure date, there was no way we could make our return flight except we cut short our stay in La digue by a day (which I was unwilling to do since La Digue was meant to be one of the most beautiful Seychelles islands). My only option was to cancel/re-book the different hotels booked and buy new plane tickets to suit my itinerary. The time difference with all these countries made the process more of a nightmare especially taking into account the time demand and lack of sleep I was already getting from work.

If you have Euros bring it with you. Euros is widely accepted in the Seychelles and in most cases, preferred.

Eating out is expensive particularly in Mahe so shop around and also budget for this. You might need to budget at least 100 euros for two people per day and even this might not be enough.

It gets dark quite early so do most of what you need to do including picture taking before 6pm.

Rent a car in Mahe and Praslin. It is convenient and will save you money (there are no cars in La Digue).

Don't let them sell you tours for invalid reasons. Be suspicious of statements such as, "this is the Island to go to see giant turtles". Don't fall for any of that, we saw a few giant turtles in some places without having to pay for a tour/go on one.

Related to point no. 6, don't completely trust the locals when it comes to money. A "friendly" boy that sold us "fresh" coconut that didn't taste too fresh also tried to convince us that access to the waterfall was restricted as it was on private property. His offer was to help us get in and find this waterfall at a fee. Luckily, we were wise enough to decline his offer and we later discovered that the waterfall was a mere 5 mins walk from where we were and it was hassle free to enter. Sadly, a lot of tourists fell for this scam and we saw them with their "guides" on our way to the waterfall and back.

For lovers of pepper e.g. we West Africans, you will need to specifically request it to be added to your food cause it appears that a lot of dishes in the country don't have pepper added to them.

Check the ferry schedule before booking hotels and flights. Re-confirm the times at least a day before departure. Also note that there is a weight limit for bags so don't be like me and over pack 🙂

Finally, beware of stray dogs. They are everywhere!
Read my trip report on the Seychelles here.