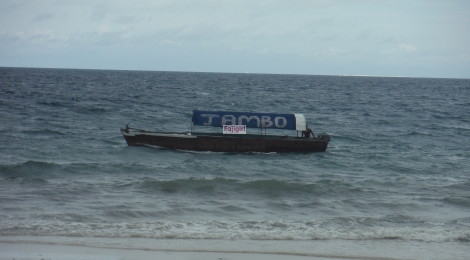 Happiness is a journey not a destination – Ben Sweetland
I had read the many articles and saw the numerous videos proclaiming this exotic Island as a must visit, so naturally I was really looking forward to my trip to Zanzibar.  
Zanzibar is a semi-autonomous state in the Republic of Tanzania and a popular tourist destination. Our first stop in Zanzibar was Stone Town, a much visited and acclaimed part of Zanzibar city. Stone Town is an ancient town and the former capital of the Zanzibar Sultanate. In the 19th century, Stone Town was the centre of the spice and slave trades. It is now also famous as the birthplace of Queen frontman, Freddie Mercury.
Not much in Stone Town has changed in the past 200 years and you won't need much convincing about this once you step into the heart of the town. The minute you arrive in Stone Town, you will feel like you've been transported back in time and living in history. Declared a UNESCO's World Heritage Site in 2000, its architecture is a unique mixture of African, Moorish, Arab, Persian, Indian and European designs. Life in Stone Town is also at a very slow pace which enables it to retain much of its charm and mystique.
Given our travel logistics, my travel partner checked in at the Hilton hotel the night before and I met him there when I arrived the next day. The Hilton hotel in Stone Town is a decent hotel and a good place to explore the town. However, it didn't offer anything out of the ordinary. A 1 min walk across the street took us to our new base, the Park Hyatt a.k.a. the game changer and a hotel I would recommend if you want somewhere exquisite, with excellent service and to feel the grandeur of staying at a 5 star hotel right by the seafront.
Upon check in, the receptionist offered us a tour of the Presidential Suite (to confirm we would like to check in there). I think she was just pulling our legs cause the Presidential Suite was absolutely fabulous and I can't imagine anyone declining to stay there. The best part was that we had the whole floor, including 3 additional rooms and kitchen all to ourselves! Check out the video tour of the Presidential Suite and floor here.
The weather unfortunately was miserable and we just didn't want to leave our beautiful room and hotel. After relaxing for a bit, we decided to take a stroll by navigating through the very narrow streets of Stone Town and tussling with the cars for the right of way before eventually giving up and taking a $2 cab to Lukmaan restaurant. Almost every travel guide on Stone Town makes reference to Lukmaan restaurant as the must go restaurant for good local food but quite frankly the food wasn't impressive. We took a few spoonful before making the wise decision to return to Park Hyatt for lunch.
Given my love of food, I was looking forward to the evening at Forodhani Gardens, where tourists and locals alike visit the many food vendors stalls to sample and buy food such as seafood kebabs, meat kebabs, samosas, Zanzibar pizzas, sugar cane juice and many other East African dishes. Sadly, due to the rain, I didn't get to experience this splendour this time around. There are other tourist attractions in Zanzibar worth considering such as Prison Island, Cheetah Rock, Former Slave Market and Jozani Chwaka Bay National Park but for us our Presidential Suite and its magnificent view of the Indian Ocean from the balcony was more than enough. What we did do was the very interesting Spice tour and that I would definitely recommend this. 
My destination verdict: Park Hyatt, Stone Town, Zanzibar really made our trip. Perhaps it was the weather but I felt Stone Town doesn't offer much to seasoned travellers. It might offer something to lovers of culture and history and might appeal to honeymooners that want to explore and "get lost" in its many maze like alleys but for restless adventurers like us, Stone Town quickly gets old and boring.
 Click here for travel tips for Zanzibar.